The Renovating Process
The cast-iron fireplace is dismantled, including shelf, legs, and frieze etc., to enable blasting to be more easily carried out. If the fireplace has a tiled insert, tiles are removed or taped over to prevent damage. The fireplace is grit blasted in the cabinet.
Read more...
As we've recently moved to a new workshop to enquiry about restoration and order lintels please send an email to office@ironwrightofdunmow.co.uk or calling us on 07342 131 842 (please leave a message or send us a text and we will call you back as soon as we can).
Cast iron fireplace restoration services
Ironwright, restorers of cast-iron fireplaces, was established in 1994 and is currently based in Essex (previously Battersea, South London). We cover the whole of London and South East. As a cast-iron fireplace restoration company most of our work is with the fireplace trade however we welcome enquiries from private customers. If you require a fireplace restoration quote, a picture sent to office@ironwrightofdunmow.co.uk is the quickest way to receive one.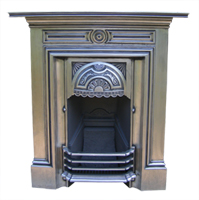 Fully Polished Victorian Fireplace
We specialise in restoring cast-iron fireplaces to a polished or highlighted finish. Most fireplaces, especially surrounds or registers have been painted with many layers of paint. At our workshop we have developed a grit blasting process which will remove the old paint safely and without damaging the original cast-iron fireplace. We will then complete the fireplace to the finish of your choice. We can repair or weld broken parts and sometimes we can supply replacement front bars and hoods, we also make shelves to suit individual surrounds and registers.
Although we mainly work for the fireplace trade we will gladly undertake private restoration work.